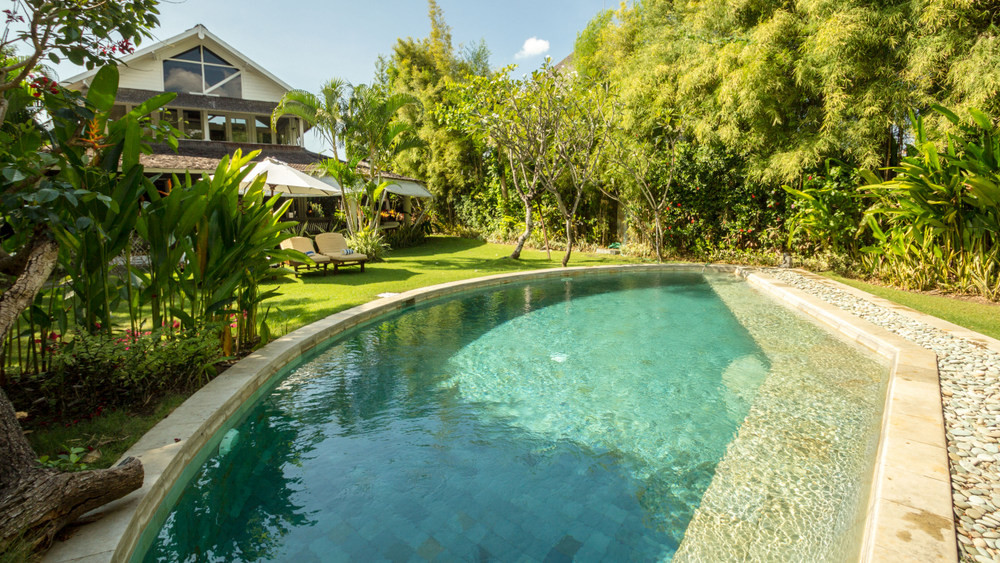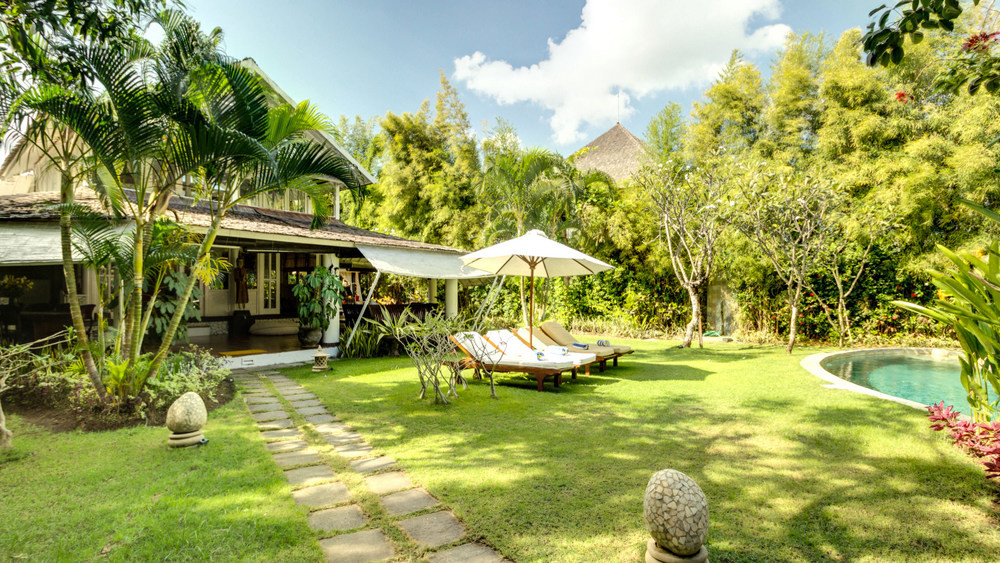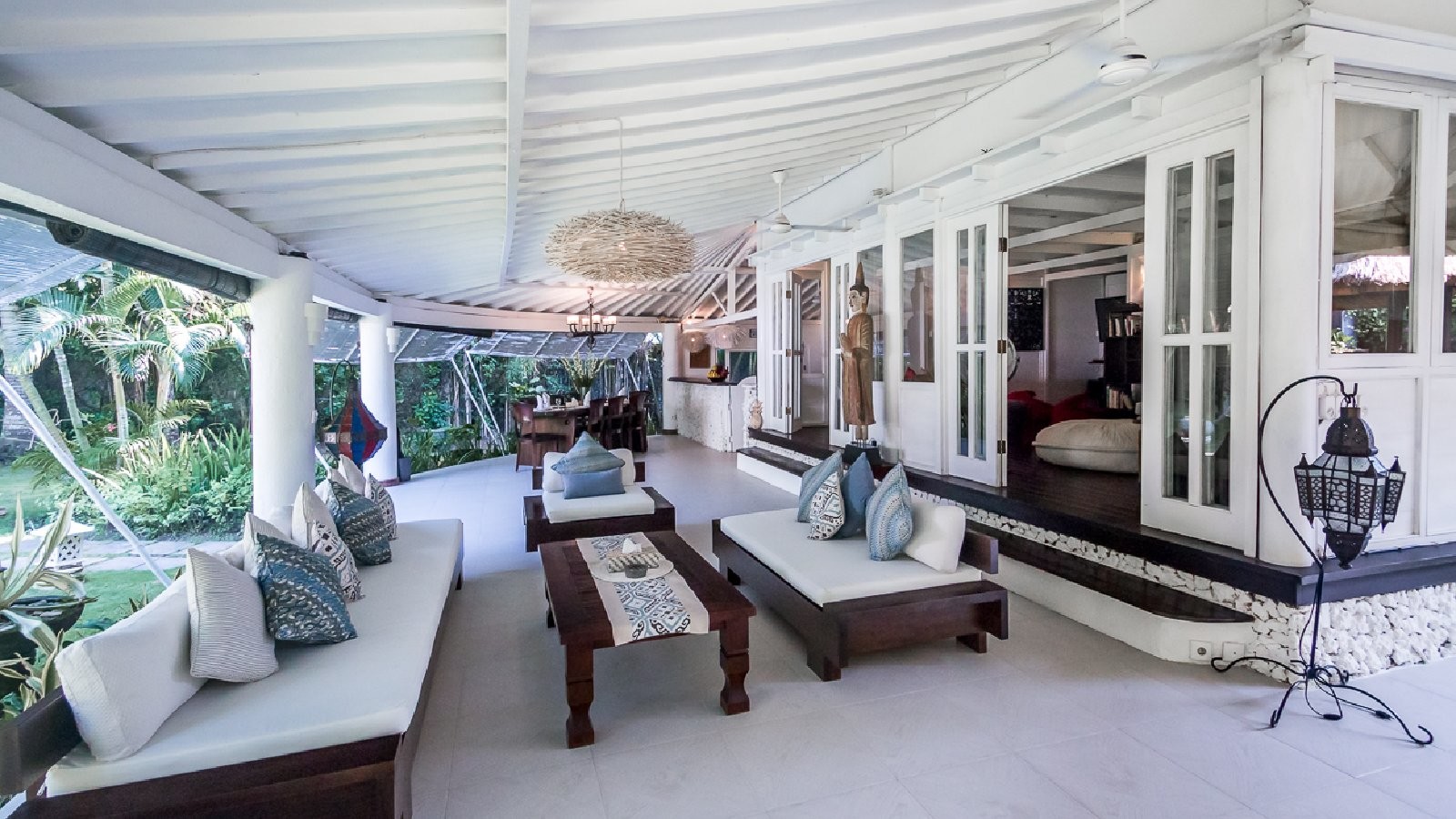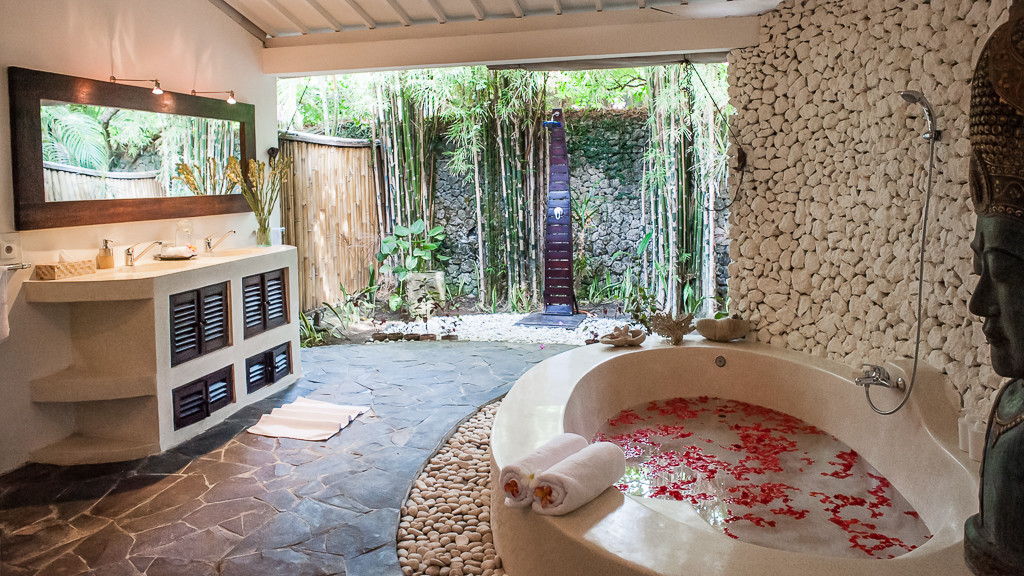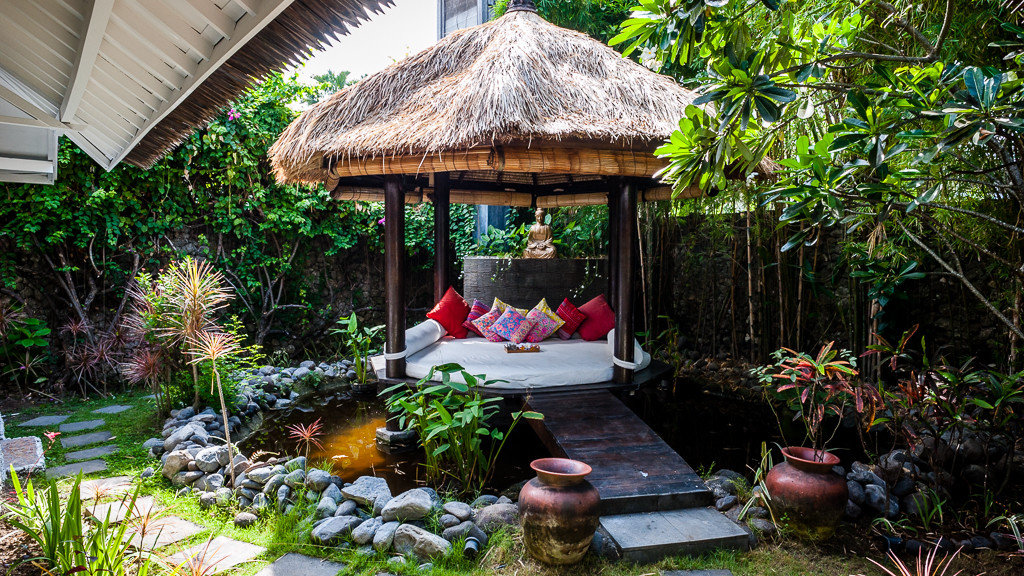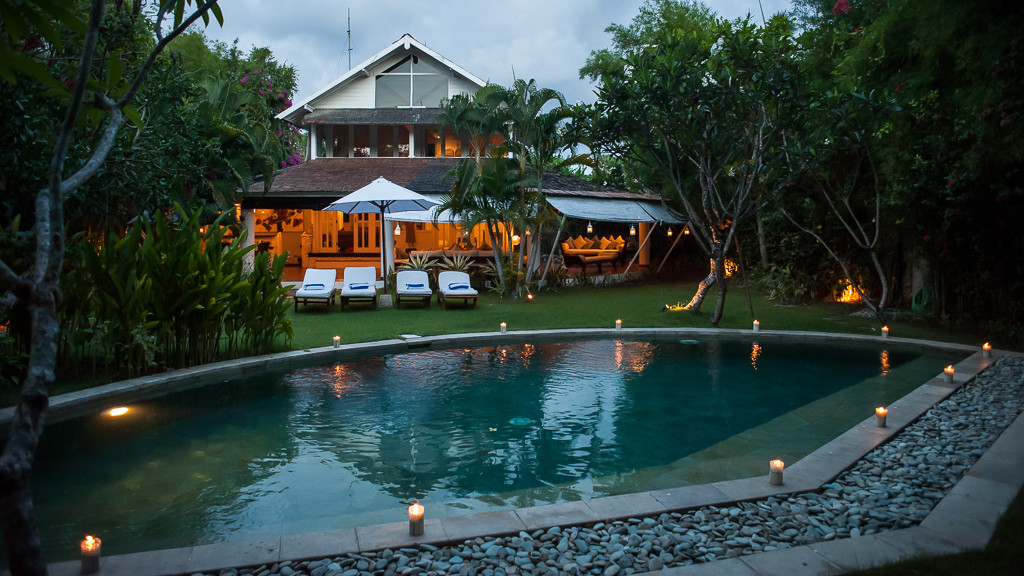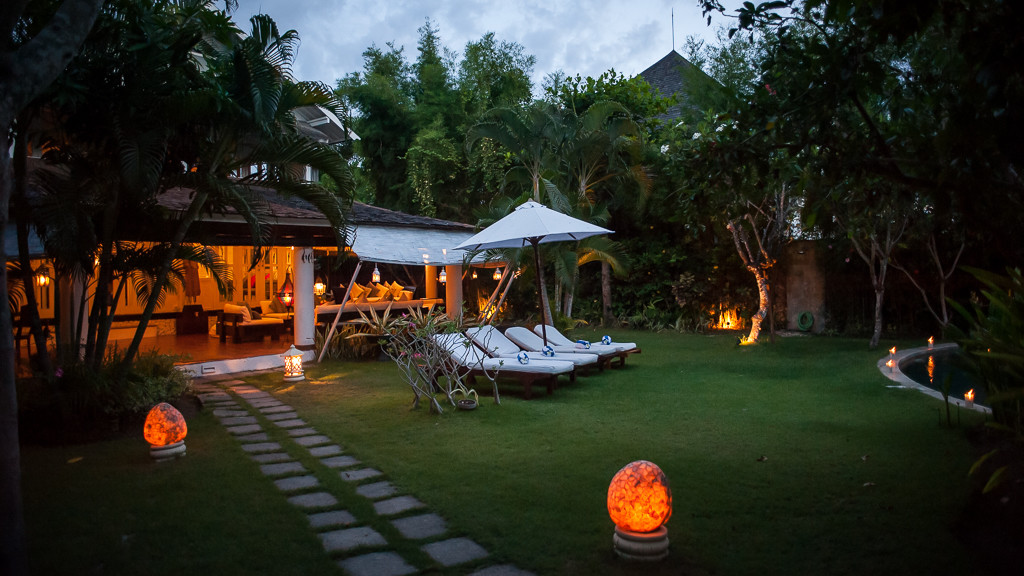 About Villa Pandora
Villa Pandora's
stunning architectural design
is complimented by towering palm trees planted along the perimeters, hints of traditional Balinese culture and colonial structures. The
rustic setting
melts well with its bright white fixtures. With
4-ensuite bedrooms
, this private villa spaciously accommodates 8 guests to their own island home. The setting nestles a fan-shaped 10 by 5 meter private pool, accompanied by an open-seating arrangement and freshly manicured gardens. Also note that the villa's indoors are
air-conditioned
to cool the hottest afternoons!
Outdoor & Pool Area
Villa Pandora's aquatic waters extends 10-meters long and acts as the focal point of the outdoor space. The pool is framed by warm limestone pavements and is accompanied by 4 bright-white sun-loungers, a matching poolside umbrella and a hammock! An alfresco seating arrangement furnished with plush chairs, couches and a daybed can be found. The semi-outdoor living space is marked by pillars and a 8-seater dining table.
Living & Dining Area
A formal dining area is located on the patio of the main pavilion - with unobstructed access to the pool, guests splish-splashing aren't isolated from convos going on around the dining table! A separate common living space is decked out in plush seating arrangements - with white canvas cushions, wooden framed-sofas, a matching swing and daybed to suit. Intricately chiselled statement stone sculptures is located strategically to adorn the alfresco space. 3 ceiling fans ensures the breeze to flow throughout the hottest hours of the day.
Bedrooms
Consisting of 4 ensuite bedrooms that can accommodate well up to 8 guests, each suite is equipped with air-conditioning. 2 suites are floored with richly stained wooden panel whilst the other 2 are tiled. The suites are furnished with a four-poster double beds and chiffon fabric softly hung, night lamps as well as bedside tables. The master is accompanied with an adjacent lounging area - with beanbags, a humble library, a television set and 2 cozy daybeds. Another suite is uniquely placed on the upper floor of a pavilion and features 2 working desks as well as a swing lounger.
2 suites extend to its own private balcony complete with either a pair of its sunloungers, a wide shady umbrella, cozy woven chairs and even a spacious L-shaped sofa! The patios act as a more secluded yet open-aired living space that oversees the luscious greens of Canggu. The en-suite bathrooms accommodate a bathtub, rainshower facilities and twin vanities.
Staff & Services
Villa Pandora's full-set of help is ready upon request – your own daily housekeeping staff, pool maintenance staff, night security, and even private chefs whipping up your daily home-cooked breakfast. With a small extra charge, airport pick-up, babysitting services, a chauffeur, car rentals, scooters as well as laundry services can easily be arranged.
Around Villa Pandora
Located in the heart of vibrant Seminyak, guests are in for an absolute treat! The villa boasts perfect proximity to
Ku De Ta Beach
, a mere 10-minute walk away. Chill out on the colourful beanbags of
La Plancha
- enjoy a jar of sangria to share whilst nourishing the sand in your toes and reggae beats in the background. Villa Pandora is surrounded by plenty bars and restaurants to choose from, suchlike
La Favela, Warung Made
, and Italian Restaurant
Zibirú
.
Take a short drive to watch the traditional Kecak fire dance at
Tanah Lot Temple
. Located on a cliff, the temple is a definite go-to for
picture perfect sunsets
and meeting
playful monkeys
.
Click here to see all 38 villa pictures
Here are our availabilities for the next few months:
Villa Finder has been directly appointed by Villa Pandora's owners to distribute their villa. Here are the direct listings:
Minimum stay
3 bedrooms
4 bedrooms
from 01/07/2019 to 01/09/2019
High season
5 nights

USD $

420

USD $

490

from 01/09/2019 to 01/10/2019
Mid-high season
3 nights

USD $

380

USD $

440

from 01/10/2019 to 20/12/2019
Low season
3 nights

USD $

330

USD $

390

from 20/12/2019 to 11/01/2020
Peak season
7 nights

USD $

590

USD $

590

from 11/01/2020 to 24/01/2020
Low season
3 nights

USD $

330

USD $

390

from 24/01/2020 to 01/02/2020
High season
5 nights

USD $

420

USD $

490

from 01/02/2020 to 09/04/2020
Low season
3 nights

USD $

330

USD $

390

from 09/04/2020 to 14/04/2020
High season
5 nights

USD $

420

USD $

490

from 14/04/2020 to 01/06/2020
Low season
3 nights

USD $

330

USD $

390

from 01/06/2020 to 01/07/2020
Mid-high season
3 nights

USD $

380

USD $

440

from 01/07/2020 to 01/09/2020
High season
5 nights

USD $

420

USD $

490

from 01/09/2020 to 01/10/2020
Mid-high season
3 nights

USD $

380

USD $

440

from 01/10/2020 to 20/12/2020
Low season
3 nights

USD $

330

USD $

390

from 20/12/2020 to 11/01/2021
Peak season
7 nights

USD $

590

USD $

590